Fundraisers in the Fight Against GBS
Buy GBS Awareness Items
The Jesse Cause is partnering with Group B Strep International (GBSI) to raise funds for GBS awareness.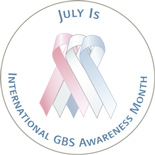 Group B Strep International offers a CafePress shop for GBS awareness items: buttons, T-shirts, magnets, stamps, and much more! SHOP >
Donate by Using GoodSearch and GoodShop
Use GoodSearch.com (a Yahoo search engine), for your web searches and Group B Strep International will receive a penny every time you search!!
Do your online shopping through GoodShop.com, and a percentage of each order is donated to GBSI (you donít pay anything extra!) Hundreds of stores including Best Buy, Macys and others have teamed up with GoodShop; every time you place an order, youíll be supporting us! You can also book travel through GoodShop partners including Expedia, Travelocity, Orbitz, Budget Rent-A-Car, Hotels.com, Carnival Cruise Lines and more!
Donate by Shopping at Amazon
Help GBSI by shopping Amazon.com via the link below! When you enter Amazon.com through the link below, a portion of your purchase is donated to GBSI.